REVIEW YOUR FAFSA CONFIRMATION
After you complete and submit the FAFSA form online, you will see a Congratulations Confirmation Page.

This will have the Date, Time, Confirmation Number, and Date Release Number (DRN).

This is not your financial aid offer. You'll get that separately from the school(s) you apply to and get into.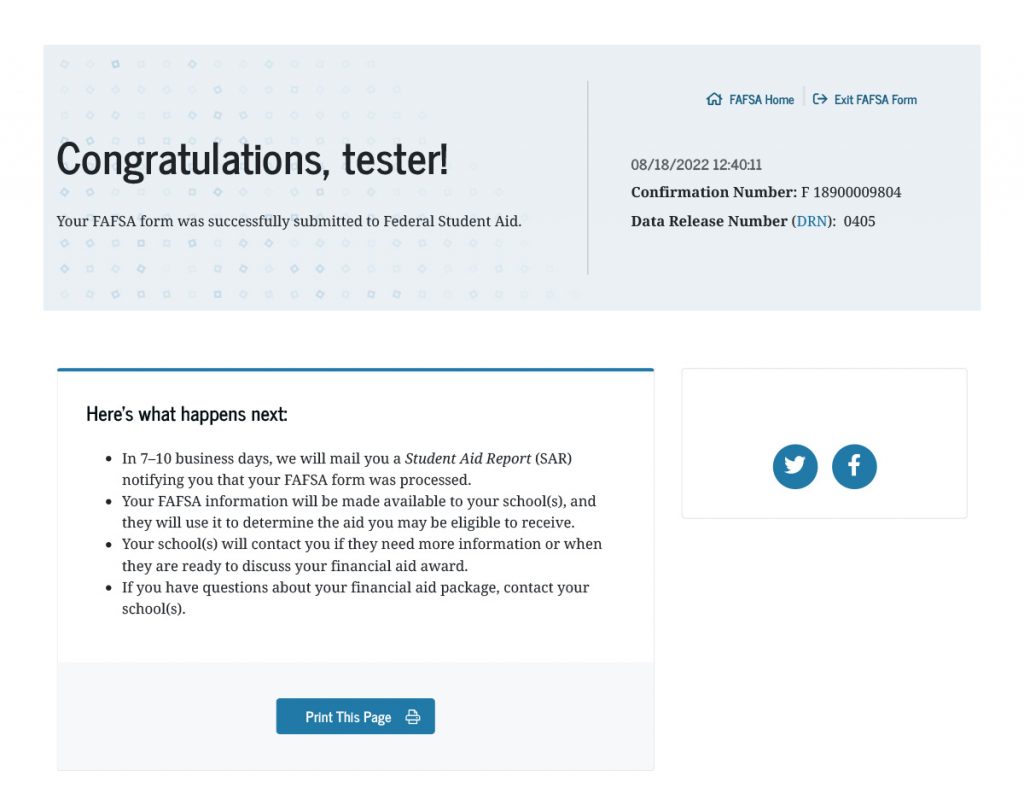 REVIEW YOUR EFC (ESTIMATED FAMILY CONTRIBUTION)
The information you report on your FAFSA form is used to calculate your EFC.

It's very important to note that the EFC is not the amount of money your family will have to pay for college.

Instead, the EFC is an index number used by financial aid offices to calculate your financial need.

The formula they use is:

Cost of attendance – EFC – estimated financial aid = Your financial "need".

Each school will do its best to meet your financial need.

Some schools may meet 100% of your financial need, and other schools may only meet 10%—it just depends on the school and the financial aid they have available that year.

REMEMBER: The EFC formula considers income, dependency status, family size, and the number of family members who will attend college.

SEARCH & APPLY FOR SCHOLARSHIPS
Since many schools won't be able to meet your full financial need, you'll need a way to pay the difference between the financial aid your school offers and what the school costs

ENTER TO WIN A $2,000 SCHOLARSHIP:

Knowledge for College Scholarship

offers students a chance to win every month!




RISCHOLARSHIP.ORG

:

RISLA's College Planning Center offers a free tool to search for hundreds of free scholarships to help pay for college.

FOLLOW UP WITH SCHOOLS YOU APPLIED TO
After your FAFSA form has been processed successfully, it's a good idea to make sure the schools you listed on your FAFSA form have received everything they need.

Find out if your school requires additional applications or documentation and submit any required information by the appropriate deadlines.

FAFSA CORRECTIONS
After your FAFSA form has been processed (which takes about three days), you can go back and submit a correction to certain fields.

This includes correcting a typo or adding another school to receive your FAFSA information.

Log in with your account username and password (FSA ID) at studentaid.gov

,

and then select "Make Corrections."

You can add up to 10 schools at a time. If you're applying to more than 10 schools, you have a few options to add more schools to the FAFSA form.

If you want to report significant changes in your family or financial situation, contact your school's financial aid office.